Brutus
---
Approximate dates: 1974-1975
Base of Operations: Boynton Beach, Florida and Findlay, Ohio
Manager: Self-managed
Agents: Buchi Artist Management, and others, many and forgotten
Personnel:
Reuben David Ferguson - Organ, Synthesizers, Vocals, Percussion
Scott Thomas Henderson - Guitar, Vocal
Timothy Micah Meyer - Bass Guitar, Vocals
Richard Thomas (Stubby) Powell - Drums, Vocals
Glenn - Roadie

---
Click on You Got The Love, or Nautilus to listen to that piece.

You must have the RealPlayer G2 program installed in order to listen to the piece. If you don't already have it, you can download it from RealPlayer. You can get a copy for free, or get the deluxe version for $29.95.
Brief History
Probably the hottest band I was ever in, and definitely one of the top three. We were fired from 20% of our jobs, and I mean fired! We had the circuit breakers pulled while we were playing, we were insulted, yelled at, and once we were escorted out of town by the local police. No kidding. All we did was play music. Very loudly. And very fast. We were used to first-class accommodations, too; when we were at the White Elephant in Wisconsin, we stayed in a place that charged us $15.00 a night. For five rooms. That is, $15.00 for all five! Of course, there was only one bathroom on the entire floor (about twenty rooms). It was the only place in town that would rent to "hippy musicians".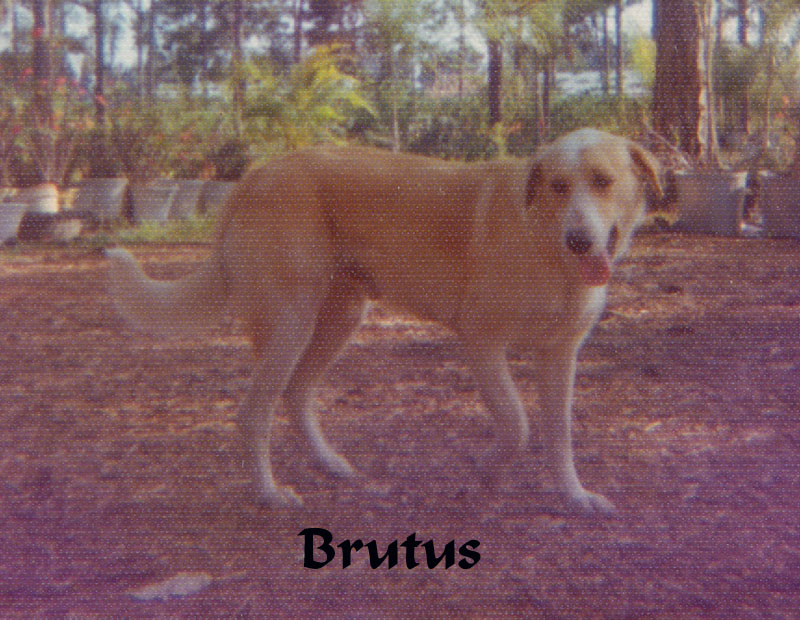 I suppose it could have been worse. Actually, come to think of it, it very frequently was worse. When we were in Florida, we stayed at my father's plant nursery (see Ferguson's Nursery). Since I owned the Toad (an 18' box truck that we used for our equipment) I got to stay in the box part. Sheer luxury compared to Tim and Rick. They were living in a tent pitched on the only clear ground in the seven-acre nursery: on top of the manure pile. (Scott wimped out; his mom lived in the area and he stayed at her house. No sense of adventure). My father was very impressed with our little band, so he named his dog Brutus in our honor. (I'm still trying to figure out if that was a complement).
After Brutus, Scott Henderson would go on to fame and fortune (much more the former than the latter). He's since played with Chick Corea, Jean Luc Ponty, Jeff Berlin, Players, Alan Holdsworth, and many others. His current group is called Tribal Tech, and they've got a new CD out. Pick it up - it's hot! If you want more about Scott Henderson, please visit a really nicely done page dedicated to him at http://home.sol.no/~afrimans/ It's maintained by a gentleman named Alf. Check it out.
Some famous quotes from the era:
"You guys played what you wanted to play; so I'll pay what I want to pay"(line delivered by club owner while in the process of shorting us 50% of our money for the week)
"You guys are too good to work" (line delivered by a booking agent after Reuben pressed her for the reason why we couldn't seem to get a gig)
"TUESDAY?!?! TUESDAY?!?!?! Everything happens on a TUESDAY!!!!!! (line delivered by a club owner. I guess you just had to be there)
"CAN'T YOU PEOPLE TAKE A SIMPLE ORDER?!?!?!" (line delivered to the band as a whole by the Colonel, owner of the Pillow Talk Lounge at the Satellite Beach Motel in Cocoa Beach, Florida, while discussing our song list).
"Can you guys play Skin Tight by the Ohio Players? It's my favorite song!" (line delivered to the band at Big Daddy's in Ft. Pierce, Florida by a burly, giant fireplug of a guy. We had just finished playing that very song. We had rearranged it so dramatically [Thematic transformation?] that it was unrecognizable to this mental giant of the dance floor. Everyone in the band hated the original version to the point of physical illness).
"It's not a dress, dammit, it's a gown!!!" (Oft-repeated line delivered by Ricky Powell to various individuals. He liked to wear ankle-length, flowing gowns on stage because they afforded him better freedom of movement, and let's face it, this is Show Biz! When not working, he wore ordinary, boring, men's clothing.)
"In my twelve years of running this club, this is the best damn band that's ever been on this stage!" (line delivered on stage by Don, the owner of the Club 224 in Tiffin, Ohio. This would end up being Brutus' last job. We simply couldn't find any work.
---
Click here to go to the Arkrat CD Catalog
Click here for an extended commentary about the Brutus Compact Disks
---
---