Original Art by
Robert T. Bakker
---
At a lecture at F.A.U. on March 1, 2001, I had the pleasure of meeting one of my true heroes: Dr. Robert T. Bakker, Distinguished Visiting Professor of Vertebrate Paleontology, Department of Geography and Geology, Florida Atlantic University. He gave an extremely good lecture on various aspects of dinosaur biology, behavior, and abilities. He also mentioned that he was a consultant for Jurassic Park II, and actually had a bit part in the movie itself. He's the guy in the cowboy hat who is eaten by T. Rex while running away. So much for a recurring part. After the lecture, I hung around and waited for the young kids (there were several) to have a chance to talk with him. He drew several dinosaur sketches while he spoke, signed them, and gave them to the kids. They were thrilled! When they had all been dragged away by their parents, I stepped up and said: "Dr. Bakker, would you humor a frustrated paleontologist who became a musician, instead?" (I didn't point out that I'm also a frustrated musician). I handed him the lecture program, expecting him to simply give me his autograph. Instead, he gave me what I considered to be a long, penetrating look, then, flipping the program over began to draw a T. Rex. Now I was the one who was thrilled! He carried on quite a conversation with me while he drew, and ended up pointing out that they always needed volunteer site excavators who had a delicate touch. I modestly pointed out to him that I was a keyboard player, and was generally considered to be quite good with my hands. He told me how to get in touch if I ever decided to take him up on the offer, and although I could not have realistically arranged it at that time, perhaps sometime soon, I'll go West and dig for dinosaurs, one of my life-long fantasies. Here is the drawing and the program:
Tyrannosaurus Rex, magic marker on glossy paper by Robert T. Bakker March 1, 2001.
Original art owned by Reuben D. Ferguson
---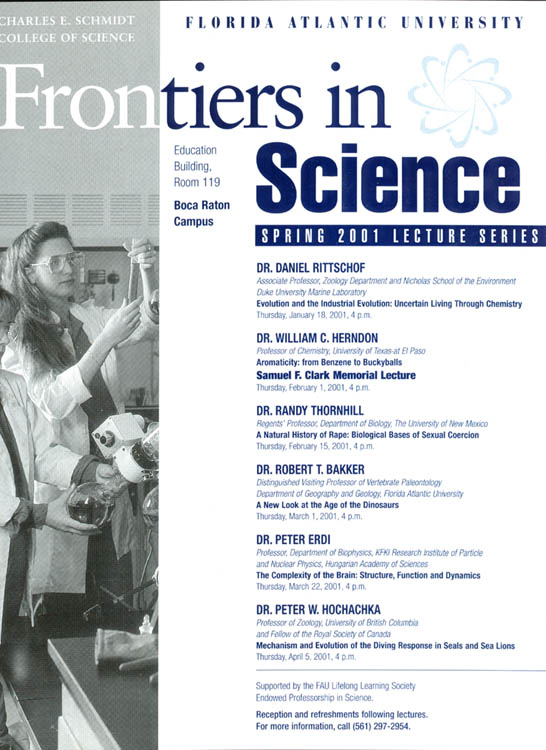 The program. Dr. Bakker used the backside as his canvas.
Close up of the listing on the above poster.
---
Click on Tyrannosaurus Rex to listen to an excerpt from that piece.
You must have the RealPlayer G2 program installed in order to listen to the piece. If you don't already have it, you can download it from RealPlayer. You can get a copy for free, or get the deluxe version for $29.95.
Tyrannosaurus Rex was composed by Reuben D. Ferguson, and all instrumental and vocal parts on this recording were performed by him.
---
Click here to go to the Wolf 359 page
---
Return to the Natural History Index